.si is the national ccTLD extension of Republic of Slovenia since 1992, when it was assigned the top-level domain extension by IANA.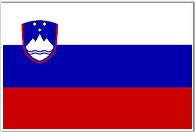 .si top-level domain is relatively young, bearing in mind that the first top-level domains were registered circa 1985.
Slovenia acquired its own top-level domain in 1992, one year after independence. Top-level domains are divided into generic and country-code: country-code domains have two-letter country abbreviations, while generic ones have abbreviated forms of various terms, interests, groups and the like.
The flag of Slovenia, adopted in 1991, is a horizontal tricolor of white, blue, and red from top to bottom. It features the coat of arms of Slovenia in the top left corner.
Slovenia in numbers
Country location: south Central Europe, Julian Alps between Austria and Croatia
Total area:
20,273 km
2
Coastline: 46.6 km
Bordering countries: Austria (.at), Hungary (.hu), Italy (.it) and Croatia (.hr)
Lowest point: Adriatic Sea (0 m)
Highest point: Triglav (2864 m)
Population: approx. 2 million
Official language: Slovenian (also Italian and Hungarian in certain parts of the country)
Capital city: Ljubljana (approx 270.000 inhabitants)
Want more numbers? Check out the CIA World factbook on Slovenia.
Facts about Slovenia

(from the slovenia.info official travel guide by the Slovenian Tourist Board)
Slovenia is the only country in Europe that combines the Alps, the Mediterranean, the Pannonian Plain and the Karst. The changing landscape is constantly surprising, time and again. You can have one eye on the sea, then look in the other direction and be surrounded by high mountains. Heading up into the forests, you can see the green plains below you. From upland meadows your view stretches into river gorges. This proximity of opposites and contrasts is a hallmark of the country.
In Slovenia you can still walk through virgin forest, or watch the grapes ripen on the oldest vine in the world. You can hear tales of bears, and eat forest fruits that you have foraged yourself on a brief walk out of town. Here you can uncover the secrets of the land, and what lies beneath it. Here you are part of nature.
Slovenia has numerous
sites of special natural interest
, with features of all four main areas: the Alps, the Mediterranean, the Karst and the Pannonian Plain. It also has a wealth of diverse architecture and urban design. You can truly feel at home in Slovenia's towns.
Slovenia is a land of
greenery
, which offers great opportunities for
activity holidays
. Its high-quality
accommodation
guarantees a comfortable stay. It is perfect for a summer holiday, a winter break or a weekend away.
Slovenia is famed for its excellent
food
, accompanied by one of its fine
wines.
The friendly, hospitable and attentive locals will guarantee you a pleasant stay. You
can
feel Slovenia.
Need some ideas on what to do in Slovenia?
Read this excellent review of best things to do in Slovenia by Jen Reviews:
https://www.jenreviews.com/best-things-to-do-in-slovenia/
.